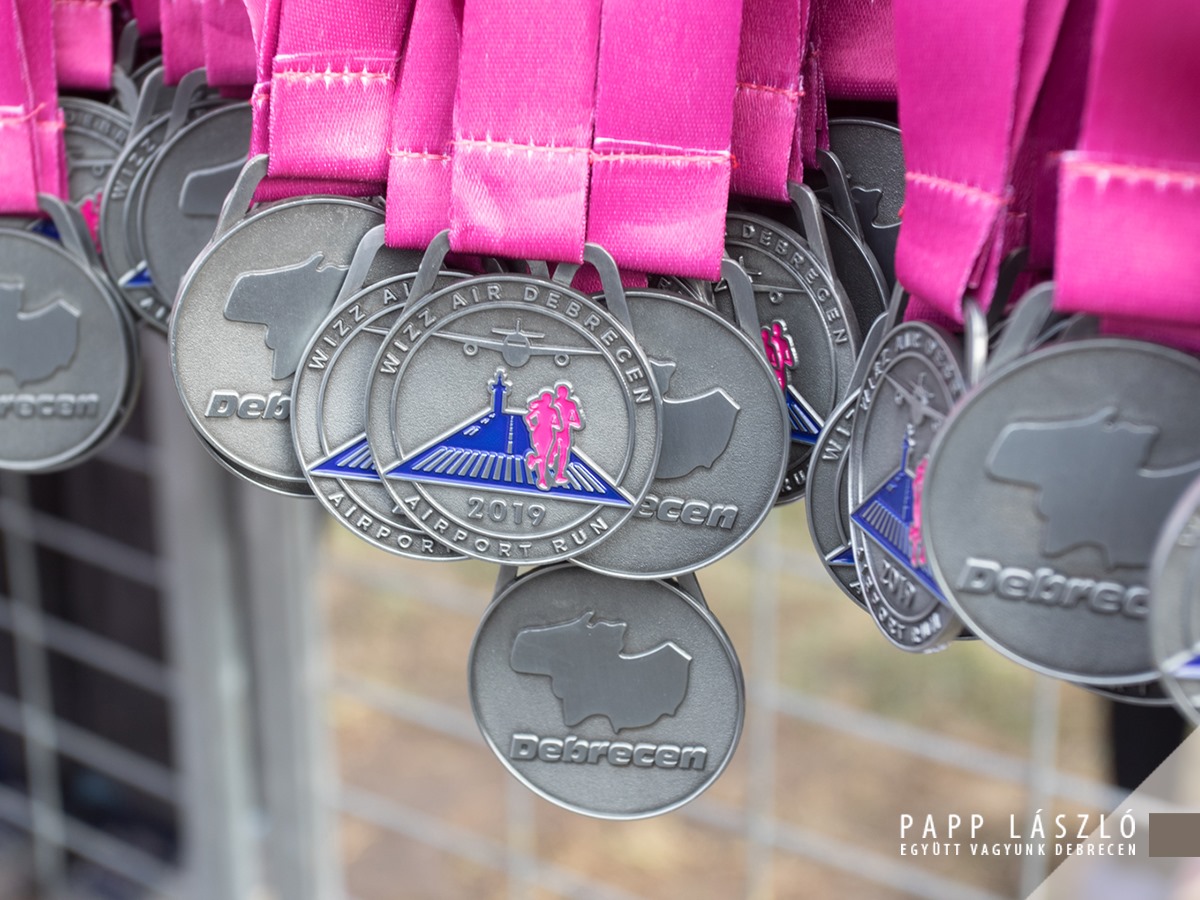 Run where the planes fly!
On 23 September 2023, the Wizz Air Debrecen Airport Run will be held for the sixth time at Debrecen International Airport.  Debrecen International Airport Kft. and the Sportcentrum jointly organise the event each year, and Wizz Air is the main name sponsor of the event!
The race aims to promote running and a healthy lifestyle and to provide families with a recreational opportunity in an exclusive environment. Participants will be able to get an insight into life at Debrecen Airport and run where the planes usually fly.
fees and entry fees:
2,5 km individual -> HUF 5490/person
2,5 km family -> 11990 Ft/team (min. 3 persons; max. 5 persons)
5 km individual -> 7490 Ft/person
10 km individual -> 9490 Ft/person
4×2,5 km relay team of 4 people -> 21.990 Ft/team
The entry fee includes the start package: a €20 Wizz Air travel voucher, a unique T-shirt, a medal, a gym bag, a start number and chip timing, water, medical care and other sponsorship. Current ticket prices are valid until 20 August, after which they will be updated by the organisers.
Run for Equal Opportunities again this year! From 2022 onwards, an Equal Opportunities Run has been launched to give people with disabilities the opportunity to take part in a 1 km sympathy race. Schaeffler is the main name sponsor of the race again this year, so the DVSC SCHAEFFLER Handball team and members of the DVSC Handball Academy will be represented, helping and supporting the participants.
There will be a special prize for the first to third place in each distance and category, as well as in the women's/men's subcategories.
Programme plan:
From 7:00 a.m. Opening of the gates
8:15 a.m.- Grand opening
8:25 a.m. – Warm-up – with Rubint Reka
8:55 a.m.- FIRST RACE: 5 km individual, 10 km individual race
9:00 a.m. – Dance off 8:55-9:40 – Signing with Rubint Reeka
9:45 a.m. – Warm-up – with Rubint Reeka
10:15 a.m.- SECOND RACE: 4×2.5 km relay, 2.5 km individual and family
11:00 a.m. – THIRD RACE: 1 km "Equal Opportunities Race" sponsored by Schaeffler
11:05 a.m. – Fitness demonstration
11:20 a.m.- Raffle draw (based on the number of finishers)
12:00 p.m. – Announcement of results
1:00 p.m. – Air show
1:35 p.m. – Wizz Air aircraft visit
2:00 p.m.- Air show
Resource l Debreceni Nemzetközi Repülőtér
Photo credit : WIzz Air Debrecen Facebook